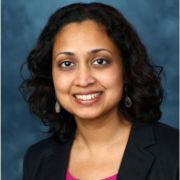 Suma Rao-Gupta brings over 20 years of experience with a multidisciplinary background in science, research, public health, and healthcare. Suma has worked at Ann & Robert H. Lurie Children's Hospital of Chicago for nearly 19 years, where she currently serves as Director, Patient & Family Education Services. Suma has expertise in health literacy, patient & family education content and programming, implementing digital technology solutions, managing clinician and vendor relationships, and engaging patients & caregivers in their care. 
Suma is dedicated to addressing the multitude of factors that ultimately influence health outcomes and looks to support patients by helping connect the dots where linkages are missing. She is passionate about finding the best ways to support patients with their learning needs, communicating scientific & research findings to the community, and engaging patients & their caregivers in various aspects of their healthcare journey. 
Suma's academic background includes a Bachelor's degree in Biology, and she holds Master's degrees in Public Health (MPH) and Business Administration (MBA).