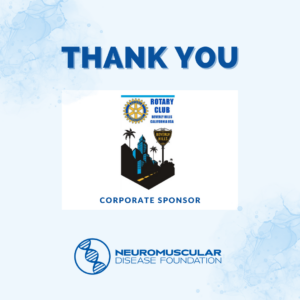 On Monday, September 30, 2022, NDF's Executive Director Geoffrey Gee, and NDF's Emotional Wellness Director Carol Gelbard were invited to The Beverly Hills Hotel for a Beverly Hills Rotary Club (BHRC) luncheon at which they accepted a most generous sponsorship donation for The Neuromuscular Disease Foundation.
BHRC renewed its support of NDF by sponsoring NDF's Emotional Wellness Program directed by Carol Gelbard, LCSW that is offered to GNEM patients at no cost.
"The funds will be used for the following purposes: providing supportive services to GNEM patients and their families, facilitating ongoing community outreach, and providing education to prevent neuromuscular diseases, particularly in high risk populations" shared Carol Gelbard.
"BHRC's support is truly appreciated by everyone at NDF and it will make a real impact on the lives of GNEM patients" commented Geoffrey Gee.
BHRC is the leading business and civic organization in Beverly Hills and was established in 1924. It is comprised of more than 160 of LA's most prominent leaders in business, legal, government, and not-for-profit sectors. A historic pillar in the community, the Rotary Club of Beverly Hills possesses the influence to shape the future of Los Angeles.