Leveraging Science's Best to End GNEM: The International Gene Therapy Development Program (IGTDP)
The Neuromuscular Disease Foundation (NDF) has provided close to $10M in funding for critical research, symposia and other programs with the goal of finding a treatment to end GNEM.
We are now paving the way to a treatment that we believe will halt the progression of GNEM in patients, by working with leaders in drug development and genetic therapy research. Every cent donated helps us get closer to the human dosing stage of this treatment to end GNEM as we know it.
Milestones and Progress toward Impacting GNE Myopathy (GNEM)
Research & Scientific Projects:
Last October, NDF announced its flagship plan The International Gene Therapy Development Program (IGTDP). It's a collaboration of the world's leading gene therapy experts to develop and begin FDA-approved clinical trials for GNEM using gene therapy.
NDF expects to submit a pre-IND package to the FDA after demonstrating the ability to fix a mouse model which harbors GNEM.

 

Once the IND is approved by the FDA, enabling the start of human clinical trials, this will be one of the world's first gene therapies for GNEM.

 

To meet the goal of developing this treatment, NDF has partnered with pharmaceutical research and drug development leader Charles River Labs, and has also onboarded the world's most renowned experts on GNEM and FDA approval process headed by Dr. Lek (Yale) and Rich Horgan (Cure Rare Disease) in tandem with Dr. Mitrani-Rosenbaum (Hadassah) Dr. Marjan Huizing (NIH) and Dr. Julie Crudele (UW) and Dr. Paul Martin (NCH) among others.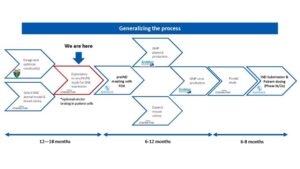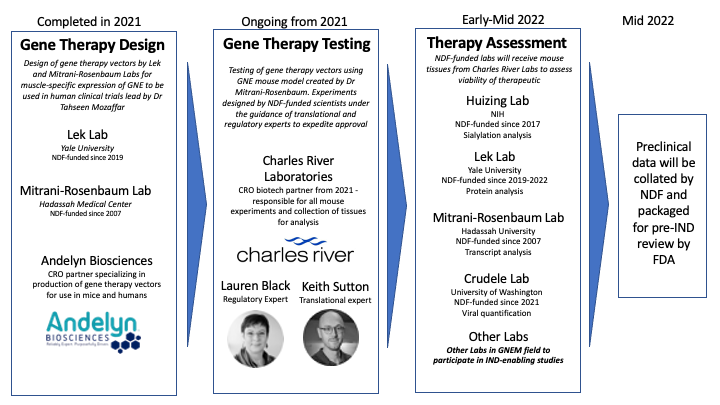 Patient Outreach:
NDF has:
Impacts of Funds Raised:
Some 80 cents of every dollar donated to NDF goes to fund scientific research and core solutions that provide critical support to families living with GNE Myopathy.
In 14 years, NDF has directed over $9M of funds to support GNE Myopathy programs. That averages to over a half million dollars per year in funding for clinical research and patient support programs.
Rich Horgan discussed the development of a gene therapy framework that has the potential to help other monogenic diseases and how the preliminary results show the GNE gene can be corrected.
Dr. Angela Lek reviews the research that NDF is currently funding towards a treatment for this rare disease.
Over the years, the disorder known today as GNE Myopathy, or GNEM, has gone by many names. If you or your loved one is living with GNEM, then you may have also heard it referred to as:
Hereditary Inclusion Body Myopathy

Nonaka Myopathy

Distal Myopathy with Rimmed Vacuoles

Inclusion Body Myopathy 2

Quadriceps-Sparing Myopathy

IMB2
All of these names have pointed to the same muscular degenerative disease. As the scientific community's knowledge of this disorder has grown, so the labels for this condition have continued to evolve. Looking forward, there will be a single treatment solution that will halt the progression of GNEM and its symptoms in patients. NDF proudly relies on some of the world's most elite leaders in clinical research, gene therapy, and drug development – many of whom we are honored to have as members of our own Scientific Advisory Committee (SAC) – to bridge the gap between the past decades of struggle for patients with GNEM and medical practitioners working to treat it, and a future wherein GNEM's symptoms, adjoining struggles and labels are eradicated by a single effective therapy. We are so close.
If you would like to learn more about the members of our esteemed Scientific Advisory Committee (SAC), data from current and past NDF funded studies, or stay up-to-date with real-time news on the progression of NDF's IGTDP plan to an effective treatment that will end GNEM, please subscribe below to receive timely updates!