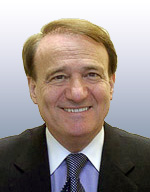 Born in England, Geoffrey practiced Law first in London and then in Sydney, Australia. In Sydney, while engaged in his legal practice, he was also involved in the world of business and was active in the management of several corporations, including a medical facilities' management company, and Australia's first hotel movie distribution company. Geoffrey has spent a considerable amount of time engaged in charitable work during and, after his retirement from his legal practice.
In 1985, he relocated to Los Angeles. He has served on the Board of the Jewish Federation of Los Angeles, Western Region and during that time also headed the Federation's Bureau of Jewish Education's, ("BJE")/Jewish Family Services' Speakers' Bureau in its "Family to Family" hosting program.
Geoffrey is a past President of University Synagogue in Brentwood, (now merged with Wilshire Boulevard Temple ), a reform congregation with a then membership of some 900 families.   He and his wife, Steffanie, co-chaired a Gala Dinner with more than 600 people present.  It was held at the Regent Beverly Wilshire Hotel honoring Rabbi Freehling as he became the Synagogue's first Rabbi Emeritus after 30 years of service.  Nobel Prize winner Elie Wiesel was the keynote speaker     The Gees also chaired the Synagogue's 60th Anniversary Party.
From 2003 to 2018, he worked for the following entities in the capacities mentioned, Institute for Myeloma and Bone Cancer Research ("IMBCR\"), Executive Director; James R. Berenson, MD, Inc., Chief Operating Officer, Oncotherapeutics, Chief Operating Officer; OncoTracker, Inc., Secretary/Treasurer from 2015 to 2018.
For each of these entities, his responsibilities include fiscal, business development, human resources, information technology, implementation of strategic plans and programs, taking leadership on decision-making issues affecting the organization and advising, negotiating, managing and administering all contracts.
Geoffrey has worked with the American Society of Technion-Israel Institute of Technology and United Jewish Appeal assisting them in fundraising and served each as their National Director of Planned Giving and the latter as its National Director of the Independent UJA Communities a group of more than 400 smaller communities.
Geoffrey has served as President of the Friends of Fox, a community-based organization that has helped to ensure Twentieth Century Fox's continued occupation of its Pico Boulevard studio lot.
Geoffrey has worked with several non-profit organizations both as a professional, a consultant or board member.  They include Save the Children Fund, UCLA's "Imagination Workshop", The Wellness Community, National Multiple Sclerosis Society, American Friends of the Israel Philharmonic Orchestra, HIV/AIDS Legal Services Alliance, Cure FD Foundation, The Institute for Myeloma and Bone Cancer Research, The Wall-Las Memorias Monument Project and the Los Angeles County Library Foundation as well as many others. He has also helped raise funds for the Israel Humanitarian Foundationan organization that undertakes humanitarian projects both in the United States and in Israel.