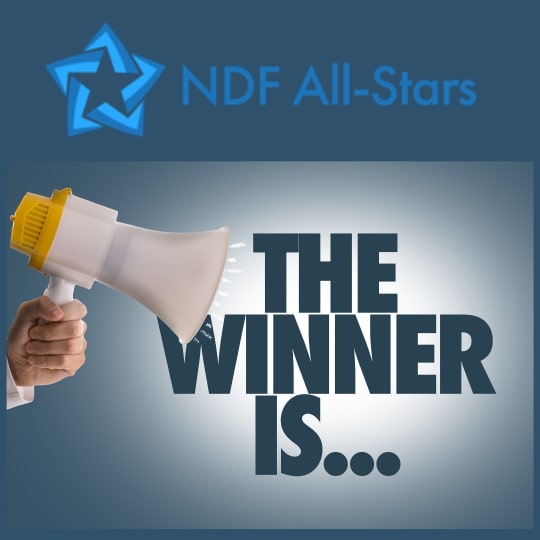 1st PLACE – Maya Davidovich Cohen – Israel
A true "ALLSTAR", 2019 has been a busy year for Maya in her efforts on behalf of the GNEM community in Israel
Worked with NDF to organize a successful symposium in Tel Aviv that brought together international scientists and patients from throughout the country and created an opportunity to collect important samples to add to NDF's Biobank.
Launched her own fundraising page that brought in 25 new donors
Identified and got registered multiple new patients for NDF's Patient Registry
Raised funds for MDUK to be earmarked for GNEM
Worked with NDF to apply for and get accepted to participate on a panel and present a poster on behalf of NDF at this year's International Conference on Rare Diseases & Orphan Drugs (ICORD) in Tel Aviv. Presentation titled: "The Power of Patients"
Continues to work to identify and register new patients
Encourages other Israeli patients to launch their own personal fundraising pages, bringing in more money and more donors
Serves as a Chairman and advocate of GNEM/HIBM organization in Israel.

2nd PLACE Mona Patel – UK
Helped secure a generous, corporate donation
Created awareness with interview on a UK blog post titled: "From Shame to Strength"
Wrote an article about GNEM for Rare Disease Day on 27th Feb 2019 published here
Helped her daughter create NDF United Youth for children of GNEM patients around the world
Currently working to have GNEM included in a documentary about hereditary conditions
Created awareness as the winner of the "HER-Abilities" Award at the 2019 Inspire Women Awards for her outstanding commitment to promoting inclusivity in her professional and voluntary work
Created a fundraiser for MDUK with funds donated earmarked for GNEM
Worked with NDF to organize a symposium that brought together international scientists and patients from throughout the UK in Manchester
Collaborated with Muscular Dystrophy UK (MDUK) and NDF to develop a GNEM factsheet and drive for a dedicated GNEM webpage
Serves as a leader and advocate for patients in the UK and across Europe

3rd PLACE – Kelly Ma – Taiwan and China
Became our newest CPA and first based in Taiwan
Traveled to China to create awareness and meet with doctors who are diagnosing patients with GNEM
Located and registered 23 new patients in China into our patient registry
Translated our Patient Registry Form into Mandarin
Created a Chat group for patients in China to be able to communicate with one another and with NDF staff
Working to create an advocacy and support group for patients in Taiwan and China
---
Special thanks and honorable mention to these SUPER PATIENTS and the work they have done on behalf of GNEM patients this past year:
Yuriko Oda – Japan
Leader of PADM, the Japanese Patients Association for Distal Myopathy. PADM campaigns for distal myopathy to be recognized as a designated rare disease in Japan.  PADM provides much needed support to Japanese people affected by distal myopathies, including GNEM.
Program lead for WheeLog – an application that enables individual users and local governments to share accessibility information about travel routes, places of interest, and more, such that wheelchair users and others with reduced mobility can confidently experience their worlds.  WheeLog was selected to be part of the 2019 MIT's Solver Class in order to help drive transformational change.
Appeared on Japanese television in her advocacy efforts and has won much attention for creating over 900 ADA compatible places in Japan.
Rose Okama – Ivory Coast
Serves as NDF's CPA in Ivory Coast
Worked with NDF to organize a patient day in Ivory Coast
On-going work with doctors in Africa to locate and diagnose patients in Africa
Serves on Global Genes' Rare Global Leadership Advocacy Council
Ariella Izadi  & David Rabanian – Israel
Both created personal fundraising pages and together raised money and brought many new donors to NDF
Vitor Pinto – Portugal
Created an inspirational music video about having a positive attitude and staying strong in the face of difficulties, such as those brought about by GNEM
Ashutosh Verma – India
Instrumental in organizing an NDF patient dinner and sample collection for our biobank in Mumbai, India
And thank you to all of our Certified Patient Advocates who, lead by our Program Managers Amy Curran and Tara Voogel, are year in and year out, our partners in advocacy around the world: Imad Kazim (US), Abdullah Al Shamrani (Saudi Arabia), Maya Davidovich-Cohen (Israel), Guy Ratson (Israel), Suleyman Kus (Turkey), Mona Patel (UK), Michela Onali (Italy & Canada), Valeria Pace (Italy), Saskia Melches (Germany), Ashutosh Verma (India), Rose Okama (Ivory Coast), Kelly Ma (Taiwan/China)