Running a nonprofit is not for the faint of heart. It requires drive, vision, extra doses of passion, resourcefulness, and impeccable communication skills.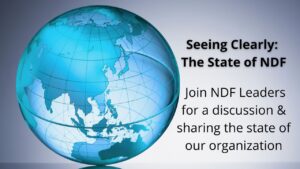 It is important for donors contributing funds to an organization's cause to be kept informed at all times of its operations and the progress toward defined goals. This has been a priority for The Neuromuscular Disease Foundation (NDF), a non-profit organization that was founded to support patients and families with the rare disease GNE Myopathy (GNEM). As the #1 fundraiser for research to end GNEM worldwide, NDF places immense value in maintaining transparency and communicating its progress clearly with that community and throughout the general community. Below are 5 important tools that NDF is using to promote transparency….
Using these tools has been tremendously helpful in maintaining transparency and strengthening the connection between NDF's donors and leadership, and in reaching our ultimate shared goal… to end GNEM!