The Neuromuscular Disease Foundation (NDF) announced that its Board of Directors has appointed Geoffrey Gee, Esq. as Executive Director, effective January 1st, 2022. He succeeds Lalé Welsh, who previously announced her decision to retire from her longtime role as Chief Executive Officer.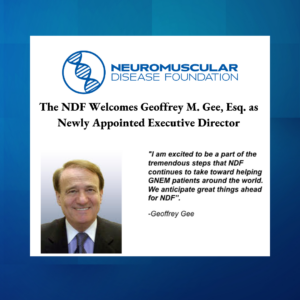 Geoffrey has served in numerous leadership roles during his more than 30-year career in legal practice and subsequently the non-profit sector, as a president and consultant, and joins the NDF from the Institute for Myeloma and Bone Cancer Research (IMBCR). From 2003-2018, Geoffrey was the Executive Director of the IMBCR, where he led organizational efforts across financial planning, business development, human resources, information technology, implementation of strategic planning and programs, and contract administration. While at IMBCR, Gee was also involved in all aspects of donor relations and development, fundraising and stewardship. He brings his wealth of experience and knowledge to the NDF, from his time spent in leadership, consultancy and mentoring roles in both corporate and non-profit organizations, including the American Society of Technion-Israel Institute of Technology, United Jewish Appeal, the Board of the Jewish Federation of Los Angeles, the Los Angeles Jewish Federation / BJE, the Friends of Fox, Save the Children Fund, UCLA's "Imagination Workshop," The Wellness Community, National Multiple Sclerosis Society, the Israel Humanitarian Foundation, and more.
"Our board conducted a comprehensive search for an Executive Director candidate with Geoffrey's expertise, know-how and ability to strengthen strategic relationships and manage donor relations."
"With his exceptional track record of leading programs to broaden organizational reach, unite and galvanize communities, support large-scope initiatives, and take organizations to the next level, we believe Geoffrey is the ideal Executive Director to lead the Neuromuscular Disease Foundation in its next stage of growth and achievement", said Ralph Loren, member of the Board and Co-Chair. "On behalf of the entire NDF Board, I want to give our most heartfelt thanks to Lalé Welsh, for her tireless work, drive and dedication over these past seven years, to support NDF in reaching where we are today. Our recent implementation of and rapid progress on our longtime goal of developing an effective treatment for GNEM patients, would not have been possible without Lalé's vision, steadfast direction and stewardship".
Under Welsh's successful direction, the NDF announced its plan to embark on its International Gene Therapy Development Program, a global research and drug development endeavor, that brings world-class researchers from around the globe together in collaboration toward the NDF-led effort to deliver a pre-IND (Investigational New Drug) package to the FDA for approval in the near future. The IGTDP marks not only the organization's rapid progress in reaching an effective gene therapy treatment to halt the disease's progression, but is also the most hopeful initiative toward a GNEM-specific treatment in history. The program was developed during Welsh's time as Chief Executive Officer and continues to thrive under Gee's leadership.
"We are most grateful to Lalé for her longtime commitment and effective professional leadership of the NDF."
"Lalé spearheaded NDF bringing countless organizational goals to fruition." said Gee. "Over the past ten years, NDF has directed $7.3 million dollars in funding to the support of GNE Myopathy research and programs. She oversaw the growth of our international consortium of scientific GNE Myopathy experts, to include renowned research professionals and internationally celebrated scientists. Perhaps most fortuitously, during Lalé's tenure, the NDF's international presence grew to span 46 countries around the world. By expanding our international presence, we are able to reach and provide support, education, care, programming, and we hope ultimately treatment, to thousands more GNEM patients than in the past. This is undeniable progress that simply would not have been possible without Lalé Welsh".
In acknowledgment of Welsh's departure, and to honor her forward-driving influence and impact on NDF initiatives, its Board of Directors will honor the former Chief Executive Officer with their "Visionary" award, to be presented at this year's Casino Royale themed NDF annual gala on Sunday, April 24, 2022, at the Skirball Cultural Center.
"I am excited to be a part of the tremendous steps that NDF continues to take toward helping GNEM patients around the world. We anticipate great things ahead for NDF".

-Geoffrey Gee