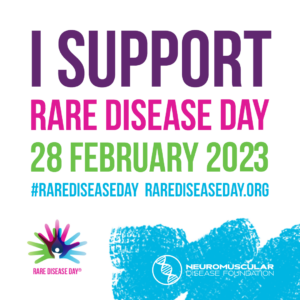 Each year at the NDF, we take part in celebrating Rare Disease Day, an opportunity to advocate for rare diseases as a human rights priority, as we work towards building a more inclusive society. Rare Disease Day raises awareness for the 300 million people living with rare disease around the world and their families and carers.
The primary purpose of the annual Rare Disease Day campaign is to take steps to achieve equitable access to diagnosis, treatment, health and social care and social opportunity for people affected by a rare disease.
As a global presence in the push for equitable healthcare and other resources for patients living with rare diseases (conditions affecting fewer than 1 in every 2,000 people), we looked to GNEM patients around the globe, to illuminate facets of their daily lives which reveal space for improvement in society's treatment and acceptance of the disabled community. We revisited some of the messages that GNEM patients have shared with us during this past year, to shed light on what still needs to change for the global rare disease community. This month, we lend our support to Rare Disease Day, as we continue to raise awareness for the 300 million individuals worldwide living with a rare disease.
"My children started showing symptoms in their late teens. I encouraged them to follow their dreams, and meet as many people as they could. As the disease progressed, I always supported whatever change my children decided. GNE Myopathy doesn't mean you can't follow your dreams. Or that your dreams can't change one way. Just follow your heart, always". – Antoinette, mother to four children living with GNEM, who advocates for her children not to be discouraged by societal bias in chasing their dreams

"Please raise your empathy". – Dr. Suleyman Kus, addressing the global medical community about how GNEM and rare disease treatment can be improved.

"I'm happy to see how much progress [NDF has] made. To be able to look into the future to see how this will play out, is very hopeful. Patients who are at my stage of the disease are wondering: 'Is this going to happen in my lifetime? In a way that will make a difference to our way of living?'. I'm hopeful about what NDF is doing; it's a game changer. The treatment they're developing feels a lot nearer to me than other trials". . . — Mangesh Ghiware, a Software professional living with GNEM, speaking of the hope he feels about NDF's progress toward a cure

"It's still difficult to present with GNEM in public spaces. People can be very vain". – Leif Roth, discussing the social obstacles that living with a rare disease presents to his daily life in Switzerland.

"I hope that family members and society can show us greater tolerance, compassion and care, and be more accepting of humans with rare diseases". – Kelly Ma, Taiwan, hoping for a more accepting future world

"Happiness is being able to hug your daughter, pick up your granddaughter, and go for a walk with them". – Svetik, on how she'd wish to spend her time with family, if freed from the physical impediments of GNEM

"Each time a skill or ability is lost, I must re-adapt all over again, forever". – Yulia from Russia, expressing a frustration of her day-to-day life that able bodied people may not be aware of.
In the movement toward cultivating a more accepting and inclusive global community, the single largest challenge is the existing need for greater public awareness. Those individuals living with rare diseases and other physically challenging conditions must struggle against ableism and lack of education manifest in others' behaviors every day.
Each time we can hold space for someone living with a rare disease to share their story with the public, we not only become more educated ourselves, but we also facilitate the ripples of knowledge that need to reach every region of the globe, for the disabled community to begin to feel the effects of an evolved approach to addressing the unique struggles faced by rare disease patients.
This February 28th , we hope that you will join us in lending a hand, your ear, and a microphone to your loved ones, neighbors, or individuals in your community, who might share their stories on Rare Disease Day in the interest of raising awareness and making our world a more equitable place for us all.
We invite you to make a donation in honor of Rare Disease Day by clicking here.