"To be kind, compassionate, and of service so I may not… be ashamed to die until I have won some victory for humanity." – Horace Mann
By Dana Corddry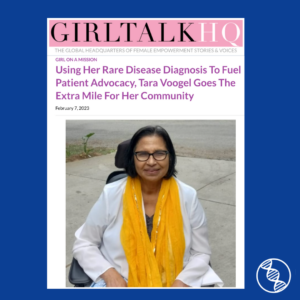 Tara Voogel recognizes her eldest sister's suffering as her strongest motivation to fight for patients who have been living with her disease and are waiting for a cure. Tara, her sister, and many members of her family live with GNE Myopathy (GNEM). GNEM is a late-onset genetic disease that causes progressive wasting of the body's muscle tissue, rendering patients in its late stages to a life confined to a wheelchair. Despite GNEM's challenges, Tara discusses her experience through a proactive lens of the steps she took to overcome them. Her tendency to look outward, build connections, and cultivate community bonds makes her a beacon to those who struggle with similar setbacks. With each life challenge, Tara strives to self-educate, equipping herself to tackle day-to-day life head-on. As she steps into her new role on the prestigious board of directors at the Neuromuscular Disease Foundation (NDF), an organization that serves the GNEM community through education, awareness and research, Tara balances her duties alongside her ongoing work as a dedicated patient advocate and program manager.
With her background as a nutritionist, it would seem a natural transition for Tara to have taken up work within the healthcare sphere. But in 2011, shortly after learning that she was facing a future with GNEM, Tara wasn't certain what her next steps were. She only had one mission in mind: to learn about this enigmatic condition called "GNE Myopathy". Tara started blogging about her own patient experience, hoping that she might reach others who were facing a similar lack of information about the rare condition they shared. "Starting the blog was to inform and educate others. And in the process, I was educating myself. I had no familiarity with the medical jargon used to explain my disease. I had to educate myself from the basics, such as: what is a cell? What are exons, introns epimerase and kinase domains? I needed to understand terminology such as autosomal recessive, mutations and variants. I would study copious materials; I devoured countless medical articles to teach myself, so that I could dissect all of the medical terminology. I needed to translate the concepts into simple terms to make it understandable. As I learned, whoever was reading my blog would learn to understand these things as well".
In short course, Tara's blog took off by word of mouth and sharing on social media, reaching new followers worldwide. The global impact that she was having showed her how broad GNEM's reach was. "I would joke that I didn't know who in Russia was looking at my blog, as I would get a lot of hits from Russia. And now I'm connecting with Russian patients and their Russian doctor. I think they were reading my blog and translating it into Russian".
Soon after, the world's leader in GNEM fundraising and research would come calling. The CEO of NDF reached out to Tara, and asked if she would assist them with spreading GNEM awareness and their website. The NDF has a reach that spans patients, donors, leaders in science and healthcare professionals in more than 50 countries, and is highly reputed for its global science symposiums. These conferences bring together the world's foremost leaders in scientific research toward a therapeutic with the sole purpose to halt the progression of GNEM. In recent years, the race to find a human grade therapeutic to halt the muscle wasting aspect of the disease has quickened, with major players such as the National Institutes of Health, Stanford, Yale University, Nationwide Children's Hospital and The Center for Neurology and Psychiatry in Tokyo (in collaboration with Nobel Pharma) joining the competition to become the first lab to submit a viable candidate for FDA pre-approval. The NDF surmised the familiar landscape and took a patient centric approach, putting research ahead of academic prestige, and developed the International Gene Therapy Development Program (IGTDP), designed to facilitate expert scientists and researchers around the globe in collaborating through sharing critical data to accelerate progress toward reaching a viable human dosing phase that will at last offer relief to GNEM patients eager to preserve their muscle function.
Today, Tara has come a tremendous way from where she was in 2011, freshly diagnosed and lost in GNEM-related medical jargon, and it is thanks to her innate ability to look outward and help to educate others, that she herself has experienced such personal and professional growth. She regularly partners with Global Genes, which pairs medical students in their areas of specialty with patients of rare diseases for information sharing that can benefit research, the patient community and services provided to them, as well as progress pharmaceutical development. "I meet with medical students and discuss a plethora of issues associated with rare diseases," she says excitedly, "such as economics of living with a rare disease, implicit biases, the emotional side of GNEM, accessibility, medical challenges, getting an accurate diagnosis and more".
As a patient advocate Tara genuinely relishes in her ability to help newly diagnosed GNEM patients, providing immense support and resources as she assists patients "to become empowered, advocate for themselves and strive to remain physically independent for as long as possible. When they're in crisis we offer them resources such as referring them to a mental healthcare provider, helping them find durable medical equipment, and connecting them with doctors in their region. We also help connect them with GNEM communities local to them and online through NDF's virtual support groups and "patient huddles" (virtual meetings for patients to discuss highlighted topics such as grief, emotional support tools, scientific progress toward a cure, caregiving topics, and more). We try to focus and present the topics that will give the most practical help to the community at large," she says. "I survey patient groups and obtain information on challenges the community is dealing with so that we can quickly address those needs in real time. The impetus for starting this support group almost four years ago was to address the ever-changing needs for patients and for them to have a safe and private forum to discuss with others who can truly understand what they are dealing with".
One can hear the authenticity in Tara's voice when she says that the chaos her family once endured via GNEM drives her to spare any individual or family from struggling through the same experience. Even if it is one patient that she can help, she says, it is worth it to her. During her tenure with NDF, she has well exceeded her goal, providing support to hundreds of patients globally. "I am here for a unique purpose, to help those with rare diseases who are either searching for a diagnosis, lost in the maze of a misdiagnosis or those who are diagnosed; and to assist them with navigating the various challenging aspects of living with a rare disease".
When I ask Tara what she would like to see come from sharing her story in such a public way, she offers a thoughtful purpose. "I want every person who reads this to know that every time a doctor or scientist invests time and resources into developing therapies and clinical trials, that there are thousands of people just like me, who depend on them and who are gratefully supporting their efforts toward an effective treatment. I have chosen to share my story publicly, because all of you who read my blog, and who are reading this article — you are part of my story every day".
As published in GirlTalkHQ on February 7, 2023
We invite you to make a donation in honor of Rare Disease Day by clicking here.