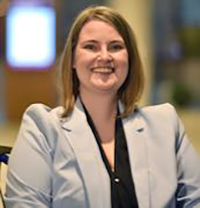 I am the youngest of 4 children in my family, all whom have been diagnosed with GNE Myopathy. After 20 years of confusion and misdiagnoses, receiving the correct diagnosis from a doctor at Children's Hospital of Pennsylvania stands out as a critical moment for my family. I was 27 and it had been nearly 6 years since my first symptom, foot drop, had become noticeable. My eldest sibling was 40 years old with symptoms starting roughly 23 years ago. By this time, my two eldest siblings were in power wheelchairs. We finally had our answer to what disease ailed us. Now, all we had to do was find a way to live with it and hope for a cure.
I,like many others with my type of disability, found the life changes too much to deal with at first. I started seeing symptoms around age 21 of foot drop while wearing flip flops or during rainstorms. I was an undergraduate in Biology with a pre-medicine discipline. At the start of my symptoms, I had a career choosing crisis and sought the advice of my college advisors. I had doubts about becoming a doctor with my unknown debilitating disability; I could see what was happening to my siblings and I didn't know if I could become a doctor. Besides the undiagnosed GNEM, I suffered from frequent migraines headaches. Ultimately, my advisors led me down a path towards teaching and I found another love. I graduated with a bachelor's degree in Biology and went to graduate school to receive my master's degree in Education with a specialty in Special Education.
My background enabled me to receive a job offer more quickly than my peers and I became a middle school special education teacher with certifications in multiple subjects including special education, biology, math, and language arts. During my 9 years teaching, I went through drastic life changes emotionally and physically, often using my career as my crutch to hang on to. Physically, I transitioned to using hiking boots for foot drop, then braces on my legs, once I received an official diagnosis. Emotionally, I lost a 9-year relationship because of my disability and picked myself back up again. Then, one icy, slushy, afternoon I slipped on stairs and suffered a traumatic Brain injury and fractured my skull. I lost my driver's license and I was out of work for the rest of the year. In terms of what could have been, I was lucky. I like to say I had a guardian angel looking out for me that day. The hood of my sweatshirt literally saved my life. Without it up, doctors say I would not have survived. Anyone who knows me well enough, knows that I hate hoods but that day I put my hood up. Recovery was difficult and took months. I still have some lingering symptoms, including hardly any smell or taste and some short-term memory issues.
I went back to work the next school year, 6 months later, earlier than I should have and ultimately, had to go on medical leave again. During that year, I used a cane and a transfer chair for longer distances. I also started the process for a power wheelchair while transitioning to a walker. For my health, I never returned to work and stayed out on disability.
One great thing came out of that last year of work. I decided to try and find love. I went on a dating site and had to figure out a way to handle explaining to people about GNEM and then, possibly go on first dates. Boy, do I have some stories! But the good news is, I met the most amazing man in my life, Jonathan. He has never left my side from the first day I met him, even when we realized I wasn't fully recovered from my brain injury. He has devoted his life to me and GNEM. He knows more about dealing with GNEM and patients than any PT/OT/Drs/or aides. Jonathan guided me through my decision to leave work.
Choosing to leave work took a larger toll emotionally on me than I expected. I felt like I lost my purpose in life. I spent months lost in not knowing my path in life. Who am I now? What am I to do with my life? I found an advertisement for NDF's Symposium on GNEM, but didn't sign up for it. Jon registered, asked for a scholarship, and bought the plane tickets. He knew this symposium was something I needed. Emotionally, I was angry at my life situation. We attended the Symposium and my life changed. I started to feel more connected to other people in the GNEM community. I had the realization that I am not alone. More importantly, I felt something that I didn't realize I was missing. I wasn't initially labeled Amy, you know, the disabled person; I was just Amy. I wasn't seen for my disability; I was seen for me, my personality, my soul. When we talk to anyone in the greater GNEM community, you feel like family; there are no judgments, just strength and love.
During the next year, I worked on my well-being. At the next Symposium, I volunteered to help NDF in any way that I could. Thus, started my journey towards advocacy. That following new year's my resolution was advocacy. I wanted to immerse myself in the world of advocating for all people with disabilities.
I started my advocacy journey by helping the NDF a couple hours each week with various projects. My life felt fulfilled with purpose. At the end of January, I applied for a committee position with the Muscular Dystrophy Association (MDA). Only 15 people across the country were going to be chosen. I didn't think my chances were great because my advocacy journey had just begun, but I was wrong. The MDA chose me, and I am now a proud member of the MDA's National Community Advisory Committee. While I cannot reveal too much, I can say that the National Community Advisory Committee is a 15-member group that will advise MDA on matters of importance to families living with neuromuscular diseases and help inform MDA's efforts to support individuals to live unlimited lives.
I continue to work with NDF and volunteer with the MDA. I also volunteer for the Rare Disease Legislative Advocates and attend meetings with legislators about topics relevant to the rare disease community.
My personal motto is community helps community. I hope that I help more people connect with the NDF and discover all they have to offer, including seeing you for you, not your disability and helping you have the strength to not be defined by your disability.