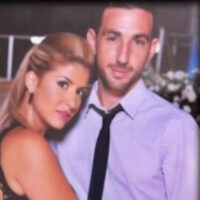 A GNE Diagnosis – From the perspective of a loved one.
Avishag's partner Shai, was diagnosed with GNE myopathy two years ago. They live in Jerusalem, Israel. This article follows Avishag's account of what it was like to hear her partner has GNE myopathy. We wish Avishag and Shai all the best and hope for positive changes in the treatment for GNE myopathy.
In my early thirties, the challenges I faced were very similar to others of a similar age trying to juggle life whilst raising my four little children.
My husband and I work very hard. Shai is in the army and I work for the police. We love life very much. Then came the diagnosis that Shai has Muscular Dystrophy – HIBM or GNE myopathy. We initially suspected Huntington's Disease, as there is a history of it in Shai's family. Nonetheless, we were praying the pain Shai was experiencing was because of a back or knee injury. The diagnosis does not make sense to us. Shai is some kind of superman; he is the first person people call for help, the first to offer help, a military man who has taken part in operations and wars. It does not make sense at all.
When the bitter news was broken to us, the doctor explained there was no treatment. The doctor talked and we stopped listening. I allowed myself some time to cry and understand the reality. I have still not been able to accept the news. And Shai? He did not talk on the drive back home and I could not find the words to strengthen or aid my loving husband. Suddenly, in the middle of life, when it just seemed like everything was going well, our world came tumbling down. I understood my future as I had once pictured it was going to change and I was overwhelmed with questions. How will I explain the situation to our children? Who is going to teach our two-year old to swim? What is the right thing for us to do? Should we go for treatment? Is Shai going to change? Is our happiness going to disappear? For two years, this is how we have dealt with this 'monster' (as Shai now refers to it).
Deep inside I am broken and angry, screaming to God why him? My soldier, my strong handsome man. I am trying my best to remain strong for Shai and my children after all, it is not me who is sick and dealing with changes. I am angry but silent because I am not sick.
Thank you for taking the time to read my story.
Avishag Abel