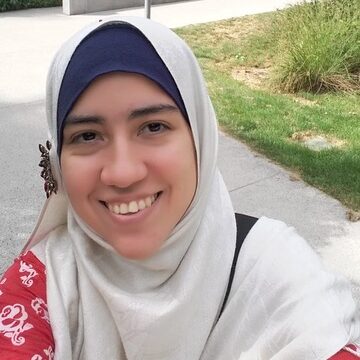 Hi, my name is Liseth. I'm happily married to my husband Irshaad, who has been living with GNE Myopathy since his late 20s. We met online on 2008, when we became very good friends. He told me he had Muscular Dystrophy from the very beginning. Our friendship flourished into a relationship. We wanted to get married, but we had no idea when he would be able to come over to my country, Ecuador, all the way from Canada to marry me, as his weakness was increasing. Finally, after seeing a doctor and getting some nutritional supplements he was badly needing, he was able to get back, at least temporally, some strength – enough strength to finally travel to Ecuador and marry me. So in 2011, we got married in my country.
He stayed with me for 3 months before going back to Canada. We had a great time together, he was still able to walk and use the stairs; however, he did fall a few times, but nothing serious. By 2013, we were finally able to live together in Canada; however, the whole trip was exhausting. From the very beginning of our marriage, we found ways to adapt to the disease. I have been his care partner / caregiver ever since. I think it was around 2015 that he had a fall that caused him a broken arm, so since then he doesn't walk by himself anymore, but only with some assistance from me. We decided it was safer to use the wheelchair whenever going out to avoid more falls that can cause him more injuries. When you love someone with GNE Myopathy, we go through all kinds of emotions. Yes, there is sadness, there is grief for what you both are losing. You don't have the same dreams and hopes other couples have, but at some point, you come to accept this challenging situation and adapt your dreams and your life, so that you can still find happiness and reasons to smile.
I'm happy to be married to my husband, despite the challenges that GNE Myopathy brings to our life. He has learnt to be a better person, a better human being. He has found a lot of help in practicing gratitude and that has really changed our life and our attitude towards this disease. For me as his care partner / caregiver, it has been very rewarding to see this process of personal growth which has helped me to grow as well. It also helps a lot that he has always been a very loving husband who shows me appreciation constantly. It is so important to know that the person you love and you are taking care of sees what you are doing and appreciates it.
One aspect of being a care partner/ caregiver of someone with GNE Myopathy is facing a lot of loneliness. However, all that changed when I found the NDF community. Being able to know that there are other people out there around the world living with similar situations and struggling, just like my husband and I, has been very helpful to feel less alone and more understood. I'm participating in the support group meetings for caregivers / care partners and it has been a great help. I have learnt the importance of also taking care of myself as this is so important and necessary when you are being a caregiver/ care partner. I really hope GNEM caregivers / care partners out there can come together as a community and support each other.  It is so important to know that you are not alone, that what you are feeling is also what others in your situation are feeling and that together we can do so much more. Don't be afraid to join and participate in these meetings, it can really change your life in a positive way.
One of the best ways to deal with GNE Myopathy is to remember to take it one day at a time and be thankful and celebrate the things that you can still enjoy with your loved one as the disease progresses. And remember you are more than a caregiver – don't forget your identity and your dreams, you might have to adapt them to your reality but don't give them up. The future is still uncertain, prepare for it in a realistic way, but never lose hope. A treatment or a cure will be found one day, we don't know yet when for sure, but in the meantime, do not lose hope and take things day-by-day.