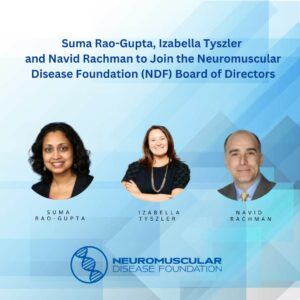 The NDF board is pleased to welcome three new members: Suma Rao-Gupta, Izabella Tyszler and Navid Rachman. All three professionals bring a cumulative wealth of knowledge and expertise in their respective fields to NDF. Rao-Gupta, Tyszler and Rachman are eager to assist in ongoing fundraising and public relations initiatives to support NDF's primary focus on its International Gene Therapy Development Program (IGTDP) to procure the treatment that will end GNE Myopathy as we know it.
Suma Rao-Gupta brings over 20 years of experience with a multidisciplinary background in science, research, public health, and healthcare. Rao-Gupta has worked at Ann & Robert H. Lurie Children's Hospital of Chicago for nearly 19 years, where she currently serves as Director, Patient & Family Education Services. She is dedicated to addressing the multitude of factors that ultimately influence health outcomes, and looks to support patients by helping connect the dots where linkages are missing. Passionate about finding ways to communicate scientific & research findings to the community and engaging patients & their caregivers in various aspects of their healthcare journey, Rao-Gupta says "I am looking forward to joining the Board at NDF to work with a rare disease organization that not only supports the patients and caregivers in their network, but also works to actively support researchers in the field. I am excited to see what we can accomplish to move the needle on improving care for families affected by neuromuscular disease".
Izabella ("Izzy") Tyszler is a proven business leader, who has successfully brought over nine products to fruition in service of a range of rare genetic disorders that include Huntington's Disease, Duchenne Muscular Dystrophy, a rare form of Familial Hypercholesterolemia (HoFH), and the first gene replacement therapy for a pediatric indication in Spinal Muscular Atrophy (SMA). Izzy not only brings a wealth of rare disease commercial experience to NDF, she also provides expertise in developing and managing global clinical-stage companies transition to commercialization. "I am passionate about impacting the lives of patients with rare diseases and their families each day," Tyszler says. "During my career in the rare disease space, I have developed a unique appreciation for the challenges inherent in engaging small communities, understanding their needs, and providing tailor-made solutions and resources that deliver high value to those we serve. I am honored to be part of the NDF board and look forward to continuing this great work in helping NDF families".
Navid Rachman hails from Iran, and has called New York home since 1980. A successful entrepreneur, Rachman has operated his own Computer Consulting and Services corporation for 20 years, serving local small businesses. NDF values the hands-on perspective Rachman brings to the board, as the son and former primary caregiver of a mother who lived with Multiple Sclerosis, requiring extensive care and support for most of her adult life. After Rachman's aging father sustained a stroke, he and his sister learned how to balance caregiving responsibilities optimally, and how to best leverage financial and medical support services provided to families by the New York state and U.S. governments. "Having traversed social, governmental, and medical challenges to secure the best help for our parents, I acquired a particular empathy and respect for families who are facing these circumstances while caring for a loved one," Rachman says. In his new role on NDF's executive board, he intends to tap into his relationships with key community members to expand NDF fundraising efforts towards treatments, and to benefit the quality of lives for patients affected by GNEM.
The Neuromuscular Disease Foundation is very pleased to welcome all three new members to its board, and looks ahead to a fruitful and productive road ahead with the next generation of board members in place.