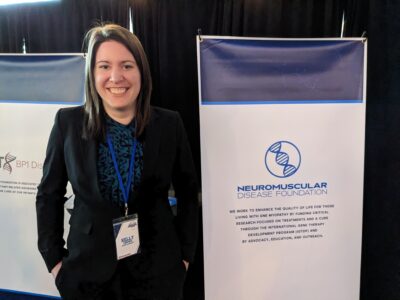 This Women's Day, we're proudly celebrating our own Dr. Kelly Crowe, a member of the NDF research team. While we could celebrate Dr. Crowe any day of the year for her amazing credentials and dedication to serving the rare disease community, this year we have yet another reason. We're pleased to announce that Dr. Crowe was selected as a member of the exclusive Uplifting Athletes' 2023 Young Investigator Draft class! Uplifting Athletes is a non-profit organization dedicated to serving the rare disease community through connecting university and professional athletes with their local rare disease communities, for the purpose of raising awareness and funds. Each year, the group selects ten standout young talents in the rare disease research space from thousands, to each receive this prestigious recognition and an associated $20,000.00 grant for their unrestricted research use. This new class of draft picks was presented with the honor by CSL Behring on February 4th, in Philadelphia.
About Dr. Crowe
Dr. Crowe is an assistant professor of Biology at Xavier University in Cincinnati, OH, where she has earned herself a reputation for working with students to develop science outreach programs with the goal of making biology accessible and engaging to the public. Crowe earned her Ph.D. in Molecular, Cellular, and Developmental Biology from The Ohio State University and an M.S. in Biology from Missouri State University, after completing her B.A. in Biology and Psychology from Drury University. Her preferred areas of research include utilization of cell culture models to understand physiological processes relevant to muscle diseases such as GNE Myopathy. Grant submissions for the Young Investigator Draft are evaluated by an expert panel of scientific advisors prior to the selection of each year's Draft Class.
When asked how it feels to be recognized among such a prestigious group of young professionals in rare disease research, Dr. Crowe said "I am grateful for the opportunity to represent the NDF in the 2023 Uplifting Athletes Young Investigator Draft. The event had an incredible energy, and truly celebrated rare disease research. With this award, I will be building on the work that my lab has been doing on GNE myopathy over the past several years. Specifically, we want to use biomarkers that we have developed to optimize therapeutic dosage for GNE myopathy gene therapy. I'm excited to start this work in my lab, and look forward to sharing the results!"
As a global leader in research that serves the GNEM community and the home of the International Gene Therapy Development Program (IGTDP), designed to serve GNEM patients through rapid research and development of effective therapeutics that will halt the progression of GNEM, we are thrilled to have Dr. Crowe on our science team. We look forward to collaborating with her as she delivers results that will quicken our shared progress on the path toward a treatment for GNEM. Well done, Dr. Crowe!
Want to know more about Dr. Crowe's research? Watch Dr. Kelly Crowe's presentation for NDF's Speaker Series: Moving Towards a Biomarker for GNE Myopathy Gene Therapy here!