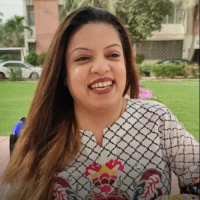 Sabeen Faisal, Karachi, Pakistan
I am Sabeen Faisal, in my 40s and currently based in Karachi, Pakistan.  Love the rain, and definitely addicted to petrichor. It was during the time of my Bachelor's degree program when I started having frequent falls. I thought it was because of my blind eye or ignorance of small pebbles on the road which triggered my falls. Later on, in the year 1999, I received a diagnosis of a rare genetic disorder, now known as GNE Myopathy. I was 22 years old then. When I found out that I have this progressive disabling disease, I felt as though, I was thrown into walking such a path that I have never walked before. Nevertheless, I persisted with my studies and in the year 2000, and completed my Master's degree in Business Administration, specializing in marketing
Besides writing in several genres for multiple platforms, I love cooking, baking, dancing, singing, travelling, spending time with friends and family; whilst remaining up to date with the latest technology and trends. Before the diagnosis, I was very independent. After finishing grade 12 in Dubai, I had to move to Pakistan for my higher studies leaving behind my own family and living with my uncle and aunt in Karachi. Life became a little difficult without my parents around, though my uncle and aunt were taking amazing care.  In addition, coming from Dubai to Pakistan brought a different set of challenges. With that said, my greatest asset from those times was my family and friends that I still treasure. Living in a country with very limited scientific proof or data available on rare diseases could have made my diagnosis difficult. However, I was lucky enough to have come across some of the most brilliant doctors in Karachi, Pakistan; who guided me through the proper diagnosis. In 1999 they guided me to go to Texas, USA for further investigation and provided my preserved muscle biopsy to help with their ongoing research at Southwestern University Hospital, Texas. There was no gene testing at that time. My visit to Texas proved an affirmation that I have a form of Muscular Dystrophy known as Nonaka, a name given in the early years for GNE Myopathy.
Life After the Diagnosis:
The day I was informed of my rare genetic disorder, the future seemed quite foggy but one thing was very clear, and that was a voice coming from within that my life would not be the same. Besides having friends like family to cherish I also found someone with whom I started my life with and we were blessed with a son. Bringing up a child was another challenge in and of itself, and I overcame all the barriers, making sure that our child receives perfect nurturing. However, the worst part was that people were more sympathetic than empathetic to me. I wanted a normal life always, irrespective of my disability. My resilient and headstrong character enabled me to stay focused and kept me moving on in life, despite the progression of my disease. With the ongoing progression, the hardships of living in a non-inclusive society; some were accepting while others changed their colors of behavior towards me. All this came as a surprise to me during the toughest of times of my life. I also had several falls due to my weakness, whereas one thing that held me strong was my self-confidence and the love of my parents as well as siblings.
Giving birth to my son was and still is, the best thing that ever happened in my life. He turned out to be my biggest support system and the reason for me to stay strong as he was growing up. Today, I am totally incapable of moving any limb and unable to lift even something as light as a petal but I try to stay composed. I keep moving on in life without looking back. With all that I did not put my career at bay, I worked in various fields from teaching, transcript writing, review writing, autobiography, content writing, digital marketing, blog writing, to digital content writing, and promoting various businesses. On the path that I walked, in a non-literal sense, reaching where I am today was rough but not impossible. I am still filled with the highest levels of hope because NDF, several scientists, and organizations are on the quest for a cure with the hope that they will reach a breakthrough in bringing a cure for GNE Myopathy.
I represent NDF as a Certified Patient Advocate for Pakistan and aspire to bring maximum awareness for this rare disorder, simultaneously bringing about the change to have an inclusive society. The past year has been very challenging for the whole world, and moreover for us as muscle disease patients, experiencing more weakness due to reduced mobility during the lockdown. I highly recommend patients across the globe preserve their muscles and keep doing what they already are. As Dory says in Finding Nemo, "keep swimming, just keep swimming". My ultimate dream is to have the cure for GNE Myopathy as soon as possible. However, my dreams are not limited to the cure, I wish to see more empathy, compassion, honesty, and integrity as we relate to one another.
How to contact Sabeen:
Sabeen participates in the GNEM Pakistan WhatsApp group
You can e-mail Sabeen  by using the "e-mail" option on the CPA main page